How and Where to Start a Materiality Assessment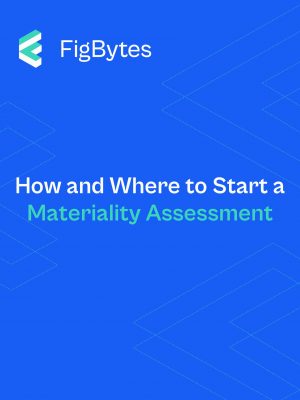 Discover these easy steps to conducting a materiality assessment.
Learn how and where to start a materiality assessment! Join Michelle Binczyk, Product Manager at FigBytes, as she dives into the need to know information about conducting your organization's materiality assessment.
Don't miss this brief chat on materiality from the perspective of an experienced sustainability professional. This is a short excerpt from the full length webinar, The Secrets To Better Materiality Assessments and What to do with the Results. Check out the full webcast here!
Zoë Frances
So Michelle, I'm going to send this first question over your way. I'd like to ask you how and where should organizations start with materiality assessments? 
Michelle Binczyk
 
 
Yeah, for sure. So I'll take everyone through a few steps on how to get your materiality assessment going. So first and foremost, you have to identify your stakeholders and you have to get into the mindset that you want diverse insights for a robust materiality assessment.
Michelle Binczyk
 
 
So remember to consider those like Zoe mentioned, both inside and outside of your company walls. Sorry. So some examples of stakeholders are employees, subcontractors, NGOs, board of directors. And recently, in a materiality assessment, I saw somebody include the environment as a stakeholder. So you can definitely think outside of the box and remember that your stakeholders are there to help you make decisions on your business.
Michelle Binczyk
 
 
So be thankful. Be grateful for them. So next, now that you've identified your stakeholders, create a sustainability stakeholder engagement methodology. So conduct some initial stakeholder outreach. Make sure to engage your stakeholders prior to creating your survey. It's very important to get in touch early on, provide overview of timelines, the deliverables, the scope of the survey, and highlight the value that the stakeholders are bringing to your organization.
Michelle Binczyk
 
 
And keep it great. Keep it brief, but get them excited that you're going to be hearing them out and putting their input to use. So now that you've identified your stakeholders, created an engagement methodology, you're going to focus on identifying your material topics. And there's already a lot of guidance and resources out there for you, so you can align yourself with the growth framework, which definitely pushes for a strong link between materiality and strategy.
Michelle Binczyk
 
 
Or my favorite is a size B frameworks because they already provide material topics by industry and there is over 77 different industries. So it's kind of like a cheat sheet and a really good starting points on what you should focus on from a materiality standpoint. And for the most part, your topics should fall under three different categories. So economic and governance, social and environmental.
Michelle Binczyk
 
 
Next, we're going to prepare and launch our survey. So design your survey again with your stakeholders in mind and you want to make sure that your data is quantifiable and data and ESG and sustainable sustainability is super important. Make sure your surveys formal and also for the right stakeholders because you might also want to consider doing like a more formal interview with different type of stakeholders like your board of directors or investors.
Michelle Binczyk
 
 
Once you have your survey, collect data and analyze. So create different ratings for different indicators. You want to look at your data from an internal perspective, from an external stakeholder perspective. You want to look at the difference between a management type stakeholder and employee type stakeholder. And my suggestion would be with this data, create a gap analysis to see where you're at, and that's going to help you guide you into what initiatives and what kind of strategy you need to create moving forward.