What Oil & Gas Leaders Need to Know About ESG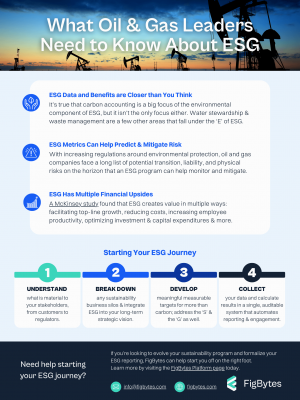 Essential Information About ESG for the Oil & Gas Industry
The oil and gas industry is receiving more pressure from governments and the public to be transparent about their operations and the associated climate risks. Environmental, social, and governance (ESG) reporting can not only help meet these external pressures but also to help prepare for the future. Discover what oil and gas leaders need to know with this easy to follow checklist.
Dive into what oil and gas professionals should be thinking about around ESG.
Get your copy of our What Oil & Gas Leaders Need to Know About ESG Checklist. Click Here to Download the PDF.
If you'd like more information, check out the full article this infographic was based on here.