The Sustainable Leading Edge: A Discussion with Jessica Jones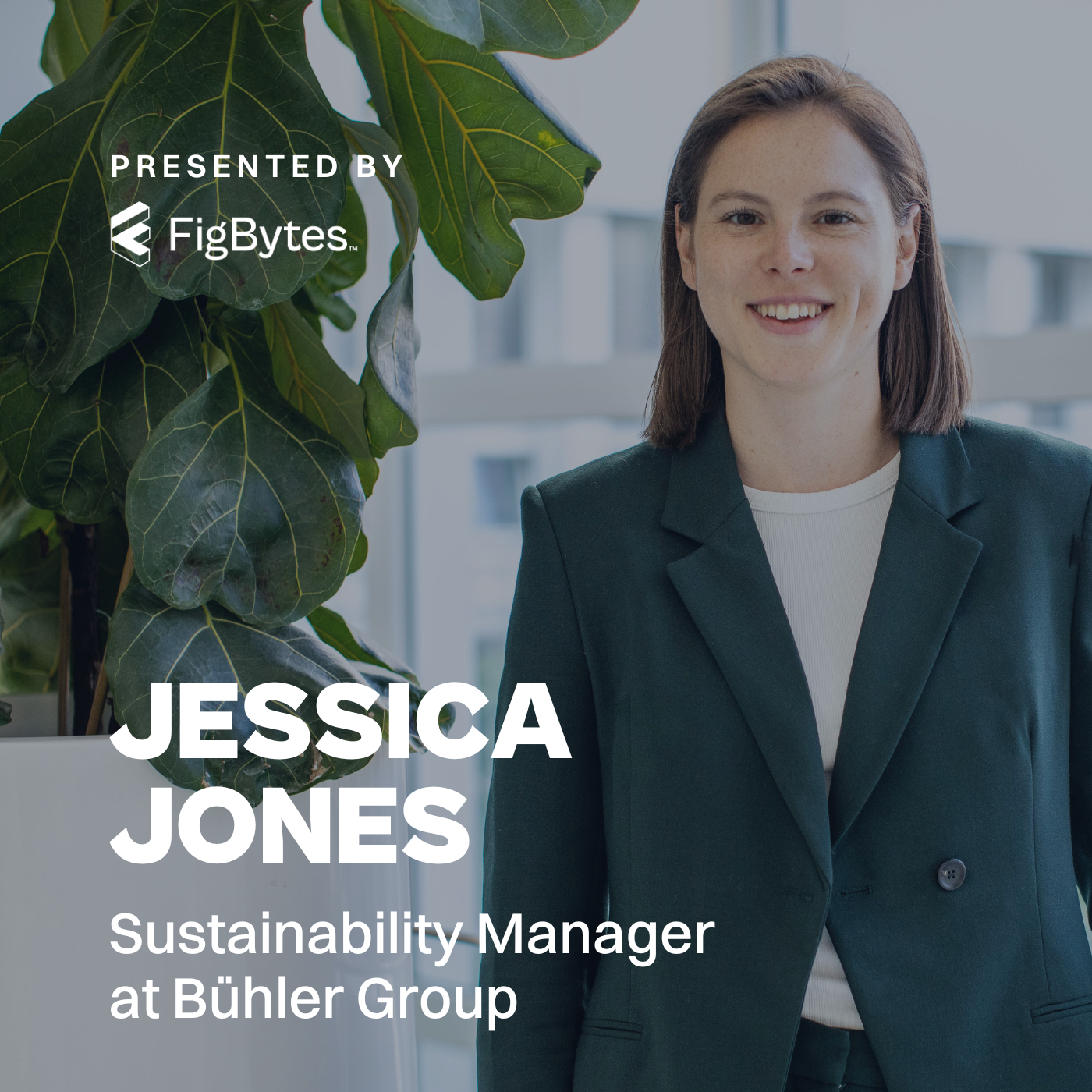 Join us for a discussion on sustainability with Jessica Jones, Sustainability Manager at Bühler Group.
In this episode of The Sustainable Leading Edge podcast, FigBytes Head of Sustainability, Kate Cacciatore, talks with Jessica Jones, Sustainability Manager at Bühler Group to discuss her sustainability journey, how Bühler Group is innovating its operations for a more sustainable future and much more.
Jessica shares her vision for how sustainability will become as fundamental to business as finance and offers some advice to companies looking to invite the young generation to participate in shaping and implementing their sustainable business strategy.
Each episode of The Sustainable Leading Edge podcast, we invite different business, sustainability, civil society and public sector leaders to share their experience on the leading edge of the sustainability transition.
Kate Cacciatore

 

So hello and welcome to the Sustainable Leading Edge. I'm Kate Cacciatore, head of sustainability at FigBytes, the sustainability data management platform that connects data with purpose. Before I introduce you to my guest today, here's some context about the purpose of this podcast series and some of the questions and themes it sets out to explore as we face major global challenges, such as the effects of climate change, water shortages and biodiversity loss.

Kate Cacciatore

 

In addition to social inequalities, conflict and threats to food security, there is growing awareness today across all stakeholder groups that business with its global clout has to do more than incrementally improve its sustainability performance. The systemic changes that are needed to help a shift to a net positive, regenerative, inclusive economy and society are massive. They will require unprecedented collaborative efforts of the private and public sectors of civil society and citizens to find new business and consumption models, innovative products and services, groundbreaking policies, financing mechanisms and partnerships.

Kate Cacciatore

This podcast invites business, sustainability, civil society and public sector leaders to share their experience on the leading edge of the sustainability transition. What motivates them to act and innovate in this space? What is their vision and how are they working towards it? What have they learned about what works and what's holding us back? How do they stay strong and resilient when faced with adversity?

Kate Cacciatore

And what kind of mindset shift do they think will be necessary to bring about the changes we want to see in the world? My guest today is Jessica Jones, sustainability manager at Bühler Group. Bühler Group is a global family owned Swiss company that creates equipment and technology for food processing and mobility solutions and is driven by its purpose of bringing innovations for a better world.

Kate Cacciatore

In addition to her operational role in Bühler Group, Jessica is also managing director of One Young World, Switzerland. One Young World is a civil society organization that has flourished into a global youth movement dedicated to empowering and developing young leaders to build a fair, sustainable future for all. One of Bühler Group's key innovations, which will be hearing about today, is its courageous willingness to invite its employees, and particularly young leaders, to actively participate in shaping how sustainability is embedded in the company's core business as an expression of its purpose.

Kate Cacciatore

 

So, Jessica, welcome and thank you for being my guest on the podcast today and being willing to explore the leading edge of the sustainability transition with me.

 

Jessica Jones

 

Thank you so much for inviting me. Yeah, it's an absolute pleasure.

Kate Cacciatore

 

Wonderful. So perhaps we can get started by talking a little bit about your role in Bühler group and a little bit also about what you do in one young world, Switzerland, and telling us a little bit about what is it about the work you do that gives you a sense of purpose and that motivates you?

Jessica Jones

 

Yeah, of course. I mean, I first came into contact with Bühler around around five or six years ago through actually one of the partnership programs that they work with, the UNITEC program. It's an engineering development program for students in Europe. And what really struck me as soon as I met the people who were working with us was how how passionate they were about what they were working on, whether it was the future of food technology or flour milling or yeah, it development, whatever job they had, whatever function, wherever they were working in the business, they were super excited to share what they were working on.

Jessica Jones

 

And the beautiful thing about about Bühler is that every day billions of people come into contact with technologies or products that are developed and solutions, whether that's in the food industry, also feed for animals and also in the in the mobility industry. Genuinely, this happens the technology that we work on is needed all over the world from yeah, the cereal that you eat in the morning to the coffee that you drink, to the beer that you you drink at night, the way that your glass on your phone is coated with the glasses you wear.

Jessica Jones

 

And this is what really attracts me. This is what really attracted me to the company. Because if if they really if we really have this opportunity, then we also have the responsibility to do something purposeful and meaningful and positive with that. So I think as a company, it's quite easy for us to have to have a purpose and a sense of purpose, but also at the same time, the people that then work for Bühler at work with me make that extra special.

Jessica Jones

And that's that's the purpose I have. So I'm very fortunate to have currently to roles. The first role is, is an internal role as sustainability manager, as you mentioned. So I'm responsible for defining the strategy along with our Chief Operations Officer for Sustainability in Manufacturing, Logistics and procurement, which is very much talking about us as a company. What are we doing as role models?

Jessica Jones

 

You know, you need to start with your own house. What are we doing for ourselves before we start talking about what we're doing with our customers?

Kate Cacciatore

 

Yeah.

Jessica Jones

 

And this is a really exciting opportunity to, first of all, understand what impact we have in sustainability, but then also to reduce the impact that we have. And then on top of that, I'm recently able to work, as you said, as a managing director for One Young World Switzerland, which is something that's supported by Bühler, but it's external to Bühler and this is really about developing young leaders and the amazing work that they're doing in Switzerland.

Jessica Jones

 

So you talked about what One Young World does on a global level and the goal of one world, Switzerland, is exactly to translate that into the local level so that we can put more of a spotlight on the amazing things that are happening inside of Switzerland and then at the same time really develop local initiatives in local dialect for communities in Switzerland.

Jessica Jones

 

And Switzerland is a lot of brilliant small and medium enterprises. This is kind of the bread and butter of Switzerland. And with that we have a real opportunity to fully embed the Sustainable Development Goals and sort of really lead the way in in these topics that are so important in the future going forward. So I feel almost like I'm dreaming sometimes to have these two jobs.

Jessica Jones

 

They really complement each other very well because on the sustainability management side, we really need to understand the latest legislation, the latest guidance, the latest technical aspects of sustainability. And on the one world side, where we're looking at sort of the inspiration part and the impact that young leaders are having across the country. So yeah, it's a it's a great balance and having those two things, I mean, that's purpose enough.

Jessica Jones

 

That's what gets me up in the morning. Yes, absolutely.

Kate Cacciatore

 

I mean, I imagine it must be a challenge to have to what could be potentially two full time jobs alongside one another. But then by the sound of it, there is this incredible sweet spot between and taking that inspiration and its capacity to bring about and unleash innovation in the company and, you know, engaging people through that kind of leadership.

Kate Cacciatore

 

And we'll be talking a bit today, I think, about some of the processes that Bühler has put in place to institutionalize that innovation and that inspiration. But I think it's an amazing opportunity, as you say, and I'd be interested to know a little bit about because I think you started as an engineer, right? That's what you said. So your own sustainability journey and was it a kind of straight path or a winding path?

Kate Cacciatore

 

How did you go from engineering to sustainability? And was it something that you you knew from the outset you wanted to do or you stumbled into it? I'm curious to know a bit more about that.

Jessica Jones

 

That's a great question. I think particularly because at the moment when you look at the sustainability field, you find a lot of young people working in it. It seems to be quite a sort of high, high profile topic at the moment. But I would say if I look retrospectively, it seems like quite a straight path. But at the time, going through it, it definitely felt like a winding path.

Jessica Jones

 

So I never sort of set an intentional goal to work in sustainability. But if I look back, then fundamentally it was the core values that were driving every opportunity that I took. So I think this is the same with also a lot, a lot of the colleagues that I work with. As you said, I studied civil engineering in the UK and sustainability was definitely a part of the course.

Jessica Jones

 

It was something important to think about. But when we talked about sustainability back then, it was not so long ago. But I think that the climate that we're in has changed quite a lot. When we talked about sustainability back then, it was sort of like, Yeah, I can we, can we put some wind turbines on the top of a building and not really looking at the full picture of of sustainability and the way that each of the Sustainable Development Goals are interlinked.

Jessica Jones

 

So when I took my my first job, I guess at a bit of my first role, I was conscious of sustainability. Sustainability is a really important topic for us and has been I've really felt that ever since I joined the company. But I wasn't necessarily focusing specifically on it. It was sort of something that was yeah, a nice to have that was an addition.

Jessica Jones

 

And over time I realized more and more that I needed to understand this topic better. And I mean as a side note, I really believe that the vision of sustainability is not that you have dedicated people working on sustainability. It should be like finance. It should be like costs. Everybody has to think about that all of the time.

Jessica Jones

 

Everybody has the basic knowledge to understand how they work and what the frameworks are. But yeah, you maybe need a few people to do controlling and finance and set the strategy, but otherwise everybody understands it. That's how I really viewed it. But I realized during my career that because the topic is evolving so quickly, I wanted to focus more specifically on it so that we could raise the profile of it in the company in order to be able to achieve and get to that point.

Kate Cacciatore

 

Right.

Jessica Jones

 

Yeah. So this it's not it's not been a winding path, really. It's it was sort of one step to the next. And it's always been an underlying topic. But but it has felt a bit like that at times. Yeah.

Kate Cacciatore

 

Yeah. It was a fascinating story and you mentioned something there about the values driving your path. I guess what you're choosing to do and I, I think that that's probably a key thing in the context of Bühler and its culture and the way that it's going about structuring and its governance. So it would be interesting just to hear briefly about the Bühler values and how that connects also in with the governance and the fact that this is a family owned company because I think in a way that might be a key to understanding how fertile ground has been created for people like you in the company, too.

Kate Cacciatore

 

And we'll come onto that shortly about exactly how that process of engaging employees worked. But perhaps you could just talk a little bit about the values and that context.

Jessica Jones

 

Yeah, of course. And being family owned is something that is really important to us. I mean, we are still family owned currently by the three Bühler sisters. And you feel that governance, I think in every every part of the company that I've worked in. So the fact that we're a family owned company means that innovation and sustainability have always been important to us.

Jessica Jones

 

They've always been key values, Bühler is 160 years old now. And when you look at the history and the timeline, you can see that this kind of long term thinking about what what is the next innovation and what do we need to do to be able to support our employees to find that and yeah, how how do we think about future generations?

Jessica Jones

 

How do we think about the sustainability of our company and the impact on the communities that we're working in? You can see this in the timeline because that's how the family have have always thought about the strategy. And I mean, in addition to that, it also means that we've always thought about the next generation is it's in our DNA to think about the future generations and who we're passing the company onto, obviously in a literal sense for the family, but also in in a metaphorical sense for for the company.

Jessica Jones

 

And to do that, you need to also listen to the next generation and understand what their needs are. So I think it's really part of part of the DNA of the company. And I feel very fortunate to work in a company that is family owned with such a such a clear vision and we have defined values and we've recently sort of refreshed them.

Jessica Jones

 

I think they stick really brilliantly and a word that we often crops up in different parts of the company is top. And I mean, you could in one sense think of that as being sort of the winner or the elite. But for us, I think it really just means we want to be at the top of our game, we want to play to win, and we want to hold ourselves also to to play our part and and hold each other accountable for it.

Jessica Jones

 

And that's that's the most efficient way to work together, I think, from my experience is, is when you really trust your team and your colleagues around. So these are these are our company values. Yeah.

Kate Cacciatore

 

I really like that. And I think that companies talk a lot about values and how they tie in with the strategy, etc., but it's no easy feat to put them into practice on a daily basis. Right. So I think it's it's an intangible. It's very difficult to even measure and evaluate, but it's absolutely fundamental from my experience and from what you're saying, I think you would agree with that, too.

Kate Cacciatore

Being able to achieve innovation that is good for the business.

Jessica Jones

 

Exactly. And. And we're not perfect, right? No., company is. No, person is. And it's a it's a continue us journey to really live these values and and to take a step back sometimes and reflect on on situations or topics and say, are we really are we really living up to these points? But if you really do if you do trust the people around and you really do have this sort of common purpose that everyone is working towards, then then you can be honest with each other and and you can provide this feedback.

Kate Cacciatore

 

Yeah, absolutely. Well, I really want to talk today about what I heard you speak about when we first met, when I first saw you speak and in your chief technology officer at the 2030 showcase event in Lausanne in June. And so I heard you talking about the invitation that Bühler had opened up for its employees to participate in, especially the young generation in reviewing the company's strategy and having a voice in determining what that strategy should look like going into the future and how the company needed to adapt in order to live up to the expectations of its, in particular, its younger employees about the kind of company they were want to work for and

Kate Cacciatore

 

the kind of world they want to live in. I found this incredibly inspiring and I remember you talking in particular about harnessing the energy and talented young leaders and the power of partnership and networks, which really struck me and resonated with me, and also the power of open dialog to bring about culture change and embed sustainability through passion, open mindedness and fresh perspectives and all of that.

Kate Cacciatore

 

Just really spoke to me and I just thought it would be wonderful to invite you to share that story with the people who'll be listening to this podcast so that other people can benefit from it.

Jessica Jones

 

Yeah, totally. I think that was a really interesting event that we were up because yeah, we were really talking about how to, how to actually achieve sustainability, how it's really embedded in your, in your company. And those two points that you mentioned, I mean, partnership and, and, and engaging the entire organization are fundamental, I think, to be able to to go on this journey.

Jessica Jones

 

So if I start with the topic of partnerships, I mean, this is something that the Bühler is very passionate about. We know that in order to achieve the magnitude of challenges that we're faced with, we can't do it alone. We're not so arrogant us to think that we are the one person that's going to be able to solve this.

Jessica Jones

 

We we need to partner with the right people. And as I said, the program that I came to get to know Bühler from is a great example of one of the partnerships that we have. So looking at the future generation and what, what talent can we bring into the organization. How can we also support that talent? Understand what it's like to work in a in a corporate environment.

Jessica Jones

 

Yeah. And, and work tangibly on these topics, these challenges and the solutions for them and also partnerships where, you know, we need other expertise. So maybe that's in being able to provide the complete solution to a customer so that they can improve on the sustainability of the product that they're producing or also looking more at systemic changes as well.

Jessica Jones

 

You know, so how can we partner with other organizations that have a similar purpose and vision to us to be able to support a system change as well? Right. Yeah. Yeah. And I mean, as well as that, we want to be able to support the organizations that are that are pushing the boundaries of sustainability. So I mean, that's one of the reasons we were we were at the showcase 2030, right, is because the Tech for Impact as a great organizations that are really driving that, there were some brilliant startups there as well and organizations like Restore, … and climb works.

Jessica Jones

 

Obviously we really want to partner partner with these companies and support each other so that we can all achieve what we yeah. What we're aiming to. And so partnership is really something that for me as a, as a slightly newer employee than some of some other employees, really, we have people who have worked here their entire life. And partnerships is is something that we're always looking at, particularly in the sustainability job.

Jessica Jones

 

How can we leverage on this knowledge from other people? And then if we talk about engaging the young generation, I mean, this is I think is a great time to introduce generation B. Yeah. And this is the internal employee driven movement that we have with the vision of shaping the company that we want to work for and it was born seven, six, seven years ago after Bühler sent a delegation of young leaders to a One Young World summit.

Jessica Jones

 

This is a kind of a conference that happens annually, and it's a convening of around 2000 people, young leaders from around the world, literally from every country in the world. And the employees came back and they said, Yeah, we had a really great time. It was really inspiring and that the Bühler management turned around and said to them, Yeah, okay, so what are we going to do?

Jessica Jones

 

And they really said that they wanted to bring this spirit of of one young world into the organization and translate it into what it means for Bühler. And they said that the way that they want to do this is through Generation B and Generation B stands for the Generation Bühler or Generation Be the Change. So is really about everyone.

Jessica Jones

 

It's it's not just about young leaders. And we need intergenerational collaboration to be able to work on these topics. So this movement was born and now we have ambassadors in every region that we work in and we have engagement from over, I think 4000 employees last year attending one of the events that was hosted, trying to raise awareness for topics that aren't already on our agenda or on our agenda.

Jessica Jones

 

So sort of having having that open mind and providing a space and almost a brand for employees to work on topics that they're passionate about to be able to this organization. And also to support the the strategy and the purpose that Bühler has. So one of our executive board members are former executive board members. Deepak Money always used to say that it's not enough to just set a strategy from the top down.

Jessica Jones

 

You need to bubble it up. And this is really kind of how we how we try to live Generation B is is taking the important points of the strategy and where we want to support and and bubbling it up through the organization, through every employee, no matter where they work or what they do or what their background is yet giving that inspiration and the tools that they can also work on these topics.

Jessica Jones

 

And through Generation B, we've also been able to to act as a sounding board to the strategy development. And I think this is this is what I spoke about before, is that when we had the five year strategy cycle, the definition for the next five years, whether where the company wants to focus employees from Generation B from from different parts of the business, were able to sit in on the strategy definition and give their feedback and input to what was being discussed and when we look at, for example, when we set up our sustainability strategy and we did our materiality analysis, we also involved Generation B in filling out the sort of the questionnaire

Jessica Jones

 

and the survey to understand what the important topics were. So typically, it is also getting a voice of, of young employees, but it's also, yeah, diverse employees. So they don't necessarily always have to be young. But I think it's a real testament to the organization that we've been able to embed this in our strategy setting processes to really listen to the opinions and the reflections and the feedback from younger generations and employees who might not necessarily always be involved in that process.

Kate Cacciatore

 

It's so inspiring. Jess I think, you know, very often companies are aware of the fact that they need to engage employees. We hear about employee engagement and often it can fall into a sort of token activity. Right. But this is an example of where you put your money, where your mouth is, so to speak, and actually gone ahead and done that.

Kate Cacciatore

 

And I think that what's interesting, obviously, it is the whole spirit of it is to engage all employees, as you said, in an intergenerational approach. But what's particularly significant, I think, about the younger generation is that as we've seen from, you know, the climate protests and the sort of movement that Greta Thunberg has has catalyzed and accelerated, young the young generation have a sort of visceral sense of the need for us to change and to radically change the way we do business and integrate sustainability, not just in an incremental way.

Kate Cacciatore

 

And young people bring that perspective and it can be disruptive, right? It can be emotional. It can be challenging. And I, I think that it's incredibly courageous and brave of the top management in the family to create the space for that and welcome that dialog and enable people to say how strongly they feel about things and what they'd like to ultimately see, even if it doesn't result in sort of immediate.

Kate Cacciatore

 

Okay, we know exactly what to do now because as you said, it's a process. So I think it's just so inspiring for for for me, for other companies who are out there thinking, how can I you know, how can we actually make that shift that we're finding so difficult to to get beyond the sort of business as usual approach?

Jessica Jones

 

Exactly. And I mean, it is often an emotional discussion. And I think the beauty of having something like Generation B is that it can be a bridge, it can be a vessel where sort of both sides can really input their frustrations. And and somehow because we have a vision of wanting to shape a company that we want to work for, once we once we bring it to this space, in this kind of and yeah.

Jessica Jones

 

This vessel to discuss, then then you can resolve it constructively because I mean, we all know that there's a lot of tension with young generations and and wanting to completely shake up the status quo. And I feel the same. I really feel that that drive and you know, after a long week, sometimes we all question if we're really doing enough.

Jessica Jones

 

But at the same time, yeah, the the company has existed for 160 years. And there's some there's some wisdom that comes with that. There's some knowledge perhaps that that can help us on that journey. And I mean, I've been in many emotional debates with colleagues that I work with and senior managers, and they always say, at the end of the day, you know, they also were eco warriors of that generation.

Jessica Jones

 

And of course they also care about these topics and we all do care about these topics. So we're all working in the same direction. And sometimes we need to we need to have these emotional debates so that we can put it on the table and understand where the misunderstandings come from and where the opportunities lie. And I think the young generation really does feel the urgency of this more than perhaps we have done in the past.

Jessica Jones

 

I think there's a lot more publicly known science available now. I won't say new science because it's not new science, but it's a lot more widely understood now. And and the younger generation has grown up with that every day in school and in the private life and with their friends and on social media. So yeah, there is a different feeling behind it, but in the end it's the same goal and we have to work together to be that there's nothing worse than than a senior manager saying, you know, we apologize that we messed up and you're the future, you're our hope.

Jessica Jones

 

We need to act now like we need to act tomorrow and we need to change businesses now. So with Generation B, I think I think we can have this neutral space for discussion. And it's not always easy, but it goes in the right direction. Definitely.

Kate Cacciatore

 

Right now, it's it's it's fascinating. And gives hope. And I think that what jumps out at me as well is the fact that you've managed to create, as I mentioned, this space, but it's also the authenticity. Right? So I think very often in in business context, there can be a sense of needing to be professional and having to communicate in a certain way and certain things you just don't say and places you just don't go.

Kate Cacciatore

 

And it seems like Bühler has been brave enough to blow all of that out of the water and just said, you know, we can all be authentic in what we feel we have to say and what we feel we want to do in the company. And my sense is that that's one of those hidden, intangible tools that can actually help transform a company culture and enable that innovation.

Kate Cacciatore

 

Would you agree?

Jessica Jones

 

Yeah, definitely. And and it's a really scary thing to do. It's a scary thing to sort of admit that maybe things in the past didn't go as they wanted to, as we wanted them to or to also allow a generation that doesn't have so much work experience to to set strategy points or to bring up the topics that are important to them.

Jessica Jones

 

Because I think our natural instinct is that, you know, they the younger generation, don't have as much experience. So how could they possibly set the strategy for for a company, for example? But once you get over that fear and once you have sort of one or two small successes, then I think you gain so much momentum. And this is really what I've seen with Generation B is that as individuals were all willing to discuss what what we're scared of and what we need to improve on.

Jessica Jones

 

And yeah, how how we might have been wrong in the past, but as a group, it's much more it's much more difficult to sort of say that. And at the beginning of Generation B, I think we had the support really of of one or two key managers who were who were willing to discuss this on a 1 to 1 level and and take a step back and allow Generation B to do things themselves.

Jessica Jones

 

And over time, as as we proved that it wasn't a terrible idea and that it did bring about value for the organization, then then this became much more easily. And then the senior managers don't just talk about it on a, on a 1 to 1 level with individuals, but openly in front of their entire team or in front of the company or externally as well.

Jessica Jones

 

So I think I've seen senior managers really you need to give yourself permission to sometimes take that leap and trust that that the younger generation won't completely mess it up. But yeah, but in small steps then, then that can build into something that's really quite powerful. Yeah.

Kate Cacciatore

 

That is so interesting that you said that because I understand a bit better now that it wasn't something that happened immediately. It was something where there were some that wasn't without its challenges and it took some time to build up that momentum. So you need to be useful to other companies to know it's not that you need to have that critical mass of support for it, but that when you can gently build that and then get to a point where it can, it takes on a life of its own.

Jessica Jones

 

Exactly. Yeah. I mean, I always love to use the word organic growth of Generation B was was really very organic. It's not a HR strategy that was put in place one day. People were asked to come on board. It was something that happened over time. It was something that happened very naturally. And it was something that grew where the sunlight was so where the energy was and where the conditions were, right?

Jessica Jones

 

That's where it excelled and in other places and at times it didn't, and it waited until the right opportunity came along and and it takes a lot of courage and a lot of trust to let that happen. Sometimes in business we're a bit impatient and we want things to move quickly. But the genuine, the being genuine and the integrity of that comes out of allowing that time to grow naturally.

Kate Cacciatore

 

Yeah. I love that metaphor and it's interesting because it's similar to that for you or for anybody who might be familiar with the Teal Organization and the Teal phenomenon, which I'm sure will come on to in another podcast, but where companies are thinking of themselves less as machines and more as organic organisms, natural organisms that can spontaneously sort of self-organize.

Kate Cacciatore

 

I think there's an element of that in what you're describing there. Yeah. Which is, which is really exciting. So I think maybe it would be interesting to dove into some of the examples of pillars, a strategy its, its core business strategy which has integrated different aspects of sustainability. So we might look at a couple of those together. I'm thinking in particular of Bühler has set a goal of reducing its scope one and two emissions by 60% by 2030 against a 2019 baseline.

Kate Cacciatore

 

So that's one dimension which we could look at together. And after that we might take a look as well at the the piece of the strategy that's dedicated to supporting customers in reducing their energy waste and water consumption and emissions, and how that fits in with new business models and solutions and actually really integrating into the core business there.

Kate Cacciatore

 

Does that sound okay to you? We start with maybe the the goal to reduce the emissions and reflections on net positive. Anything that you'd like to share on how that's working in practice and what kind of solutions you guys are coming up with?

Jessica Jones

 

Yeah, completely. And I think it's it's really fitting that we start with that because as I mentioned earlier, right. You have to you have to start with your own house, keeping your own house tidy. You have to start with being a role model. That's that's very important for us. And the whole of our sustainability strategy at Bühler is also really underpinned by thinking what can we do as individuals?

Jessica Jones

 

What can we do as a company, and what can we do as an industry? And I think that really helps to also explain, explain our sustainability strategy and what we're working on. Because in in 2019, we hosted a large event, the record, the networking days where we invite all of our customers to our headquarters in Uzwil in Switzerland and and talk about the important challenges that are faced that we're being faced with and hopefully inspire our customers a little bit.

Jessica Jones

 

And we had a brilliant speaker, Sunny Verghese, who spoke at this event, and he said to the audience, How many of you know your personal carbon footprint? And this was a roomful of quite senior individuals. And and nobody put their hand up, hardly anybody, including the Bühler employees and the sort of support team that was in the room.

Jessica Jones

 

And this was really a moment for the organization where we said, okay, it starts with me. We really need to also work on the individual topic. And that's really also what Generation B is really powerful in driving.

Kate Cacciatore

 

Right?

Jessica Jones

 

Yeah. But then we look at also our company, you know, what are the things that we can directly influence? What is our scope? One, two, three emissions according to the greenhouse gas protocol. And and this takes a lot of work, as you said. And it's what I'm working on every day. And we have in 2022 this year, at the following networking days, the external commitment to reduce 60% of our scope one and two emissions of the company globally by 2030.

Jessica Jones

 

And the first step, of course, in our in our journey was to understand the status quo. I've been working in this team for nearly two years now. So this is really why the momentum for the for the company measurement started. And once we understood our baseline and our key levers, then we sort of said, okay, how can we act on this?

Jessica Jones

 

And it's very important to us that we really understand the the reality of achieving these targets before we commit to them externally and understanding also the complexity and how it interacts with other parts of the organization and we talk about balancing the needs of nature, economy and humanity. And and we are a business and we need to be able to invest further in the business in the future to become more sustainable.

Jessica Jones

 

So these are the kind of discussions and alignments that we have behind the scenes in order to be able to really understand how do we achieve a commitment.

Kate Cacciatore

 

Right. And maybe I could just jump in there to clarify for people who might be listening that Buda is a big company. Right? You have a lot of heavy duty manufacturing activities around the world. Maybe you could just give us a sense of how many countries or what that looks like. This is what you're trying to achieve is no small feat when it comes to all of these manufacturing facilities.

Jessica Jones

 

Yeah, exactly. So, yeah, last year we were we were 12 and a half thousand employees really all around the world. And we have around around 30 manufacturing sites globally plus or minus that. Yeah. That are producing machines out of steel often that we, we ship around the world to our customers. So the turnover last year was around 2.7 billion.

Jessica Jones

 

So we're talking about quite a large volume of. Yeah. Of machines that are purchased of parts that are purchased and and some logistics behind that as well. So yeah, it's, it's, it's a challenge. We're also going back to partnerships very reliant on a lot of our suppliers and a lot of the industry trends as well. For example, of the steel industry, of the transportation and the logistics industry.

Jessica Jones

 

So yeah, these are all things that really took a while to understand and understand the complexity of them and to make sure that we have done our homework so that when we have these discussions with our suppliers that we are supporting them. And we're not just sort of measuring them. Yeah, right.

Kate Cacciatore

 

Exactly. There's the challenge of the scope 3 emissions. Right. And trying to make sure that you can get the data and I guess engage with your suppliers to help them understand their own footprint and reduce their own footprint over time. That's part of the journey, I guess.

Jessica Jones

 

Exactly. Yeah. I mean, scope one and two, we have a clear plan for this. I mean, the focus is clearly on on renewable electricity and non-fossil based heating. This is a pretty much the the largest influence in our scope, one and two emissions. But our scope one and two emissions are much smaller than our scope three emissions magnitude of over 100,000 tonnes of CO2 per year compared to a million tonnes of CO2.

Jessica Jones

 

Right. So it's really important that we understand these partnerships and we work together with suppliers. And that's why, for example, we we also work with the World Business Council for Sustainable Development, the WBCSD, because this is a large network of these these businesses that are also working towards these goals and can help share best practice on.

Jessica Jones

 

I mean, first of all, how to measure primary data of Scope three and then also how to reduce it.

Kate Cacciatore

 

Yeah, absolutely. So maybe we can talk a little bit about the work on the customer side, because if I understand correctly, you talk a lot internally about your 50, 50, 50 goal. Perhaps you can tell us a bit about that.

Jessica Jones

 

Yeah. So I mean, this is really the purposeful target that we have internally. If you ask, I think most employees what the sustainability target is, then unless they're working in the factory and they understand exactly all sub targets and KPIs on the operational side, I mean this is the thing that we are all working towards as an organization.

Jessica Jones

 

So based off of yeah. The materiality assessment that we've done and influence also from the WBCSD and best practice are our goals where we can really have the impact on the planet on a global scale are to reduce or to have the solutions in place by 2025, to be able to reduce the energy, the waste and the water consumption in our customers value.

Jessica Jones

 

So we said, yeah, the magnitudes of scope one and two compared to scope three that's also not including use of cell products. If we use it, if we look at these categories, use of cell products and disposal of cell products, which is actually, you know, what our customers are doing with our machines, where we're where we're touching the billions of people every day, then this is even higher.

Jessica Jones

 

I mean, this is sort of 40 or maybe even 50 times higher, depending on how you calculate it. So this is really where we can have the impact in the world. And then if you go one step further, also outside of, yeah, the greenhouse gas protocol and reporting and you look at avoided emissions, then we're talking an even larger percentage and even larger number and not only emissions, but also impact on nature, impact on humanity, the jobs that are being created and the quality of life that people are having working with our customers.

Jessica Jones

 

So this is why we have the 50, 50, 50 targets and some of that will come from technology changes and machine advances and new digital solutions and innovations. And some of it needs to come from from systemic change. And this is really how we want to support the industry and how we want to support our customers going forward.

Jessica Jones

 

So that's where the work of the group outside of of manufacturing, logistics and supply chain, that's where the work is really focused. And I think if you ask any of any of the employees, that's the thing that they that they are working towards and that we are embedding in our everyday work.

Kate Cacciatore

 

That's amazing. And can you give us maybe an example of what that would look like in practice in terms of I think I remember reading about things like rather than just continuing to offer customers new machines that do things better, finding solutions for retrofitting existing machines. And but also I think there are some really interesting examples of how you're working to understand the the energy efficiency and the whole impact of a particular product in its entire value chain and all of the emission factors relating to that.

Kate Cacciatore

 

So I don't know which one, which example you want to take, perhaps just to make it a little bit more tangible. What does that technology innovation mean in practice here?

Jessica Jones

 

Yeah, so there's really many different dimensions of it. I think one really great example, if you look at the design of all plants and of machines is is the milli3 and this is talking about flour, milling, and this is an innovation in, first of all, one machine slightly changing the layout of a machine, but then also the overall design of the plant, because in the food industry was often often talking about whole plant design.

Jessica Jones

 

And through this and also through addition of another technology, we were able to change the the sizes required of a flour mill. So we reduced the number of floors that were needed. Typically, if you think of a flour mill, you think of a very tall building. But we were able to reduce this 2 to 3 floors.

Jessica Jones

 

And with this you can save a lot of energy and yeah, so to me, in the construction process of the plant and also you can create efficiencies in the running of the machines and yeah. And the layout of the plant. So Millie three I think is a is a great example of how we yeah. How we've looked at it internally from a development innovation perspective.

Jessica Jones

 

And then with our customers, we, we know that most of the time that the largest lever for reducing emissions, reducing impact also in nature is looking at the raw materials that they're processing, whether that's in the automotive industry and die casting or in the food and the feed industry. So it's really important to us that we look at the the yield of of our machines.

Jessica Jones

 

So improving that the the yield that customers can achieve with our machines and our technology. And with this, I mean, for example, some of our sorters. So SortEx H this helps to reduce the amount of waste, the amount of lost product through a machine. So we're really able to advise and look at the whole picture and then yeah, suggest machines that can help or technologies and solutions that can help customers to improve their yield.

Jessica Jones

 

We also look at side streams. I mean, there is food waste is such a high influence factor in emissions in in the world and a real challenge that we have if we want to be able to feed the growing population. So partnerships with, for example, thinking which works in biomass incineration and burning for power generation and being able to provide this as a solution to our customers so that, you know, there is something that they can do with the side streams or looking at, yeah, in increasing the use of side streams and for a spent grain for example, and a new innovation that is circular food solutions, a new company that's been

Jessica Jones

 

formed out of Bühler. So there's this, there's so many different options. And I mean, what we really want to be able to do is to provide this knowledge and experience to our customers. And this is do with our environmental quantification service. So you have a dedicated team that's working to quantify the impact of a customer's product, whether that's a kilogram of flour or a kilogram of chocolate or and product, and use the knowledge that we have and the experience that we have from, from running these machines and developing these machines to yeah.

Jessica Jones

 

To support our customers, to also go on this journey and then provide Yeah. Input on the right solution, whether it is the side stream utilization or yeah, more energy efficient machines retrofit, as you mentioned. I mean, that's a really key part when we talk about reduction of energy consumption. So and yeah, it's a it's a whole different things and we really have the experience and we're developing the experience to be able to support our customers and inform them on yeah, the best step to go forward.

Kate Cacciatore

 

Yeah, I think it's really, it's really impressive. And also what strikes me is that to be able to come up with all of these solutions, really what you need is a mindset that takes you beyond the confines of your own company, right? So I think in the past, companies maybe tended to have a blinkered view on their own piece of the value chain and what was going on within their own walls, so to speak.

Kate Cacciatore

 

But I guess what we're seeing now is this trend to really develop in a more natural way, a holistic view of the entire context and value chain and the wider systems that we're that a company is embedded in. And it's then that you start getting these ideas for how you could pull one lever and get a bigger effect over here or bring about.

Kate Cacciatore

 

Yeah innovation to change the bigger picture. So I just think that that's particularly worth underlining because again, it goes back to culture, doesn't it? Unless you have that culture of thinking about what's our purpose? How can we support ultimately having a positive impact on the world as well as being a financially sustainable company? You know that that's key to achieving some of the solutions that you're talking about.

Jessica Jones

 

Exactly. And it goes back to exactly what you said earlier, that that we do require in places radical change and we doing require more than just the incremental approach sometimes. And to be able to do that, you have to think about the bigger picture. That's exactly what we're doing there.

Kate Cacciatore

 

Well, before we close, I'd love to come back to you and just get a sense of what's the vision for the future that's driving you, how would you see yourself, and what kind of thoughts are going through your mind for the future?

Jessica Jones

 

Oh, that's a big question. I mean, to answer it on on sort of the, I guess a more engineer answer or the business answer, I I'm really working towards seeing sustainability as a topic that is the same as finance. I mean, that is really well understood and well developed and, and integrated into everything that we do. And that definitely starts with me.

Jessica Jones

 

I would love to see people also having the courage to think about it from a personal perspective. So where you have the means to where it's possible to, to to look not only at cost but also at the actual cost of something. So this is kind of the vision that drives me is, is having the underlying the transparency and understanding so that so that this this could be a reality and that, you know, it's not an additional nice to have anymore.

Jessica Jones

 

It's something that's really embedded and and yet it's a really to really see organizations have had the courage to make bold decisions about where they're working or how they're working, and so that it benefits the planet. And people people and the planet and not just. Yeah. Their own business. I think he said something about companies not just creating problems so that they can then make the solutions, but actually finding problems that exist and solving them and turning that into your business.

Jessica Jones

 

And I think that's that's really what I hope the next few years transitions into quickly.

Kate Cacciatore

 

Wonderful. And it's not an easy journey, right? There are times where we're on the bleeding edge rather than the leading edge, I think. How do you deal with that? Like what's what's your go to strategy for when the going gets tough?

Jessica Jones

 

So for me it's people and connections and often that means colleagues at work. Normally within our sustainability team, I mean it's, it's quite large if you consider the whole, the whole company. We have a team here that works in manufacturing, logistics and procurement and we have a team that works more on the customer facing side and we exchange a lot.

Jessica Jones

 

We work very closely normally when one of us is having a challenge, the other one is doing okay and is celebrating some successes. So being able to to debate these topics with each other and to be able to sort of reassure each other that we are working on the right thing. And then also outside of work, I mean, also, yeah, sustainability is a topic that can really or should, should really bleed into also your everyday life and and therefore it can become quite overwhelming.

Jessica Jones

 

So yeah. Having being surrounded by the right people.

Kate Cacciatore

 

Yeah, yeah, it's great. And, and before we close any, any words of advice to either people who are making their way in the sustainability journey as individuals like seeking to fulfill their own purpose and contribute to companies positive impact and perhaps any words that you'd like to any advice you would have for companies wanting to go about the kind of transformation that you've been involved in?

Jessica Jones

 

Yeah, I think I think we've mentioned it several times. But for me, it always comes back to purpose and integrity. I once, when I was younger, worked with a really inspirational organization called the Youth Sport Trust, a charity in the UK. And the leader of that, she she said that the most important value that she believes that one can have is integrity.

Jessica Jones

 

And I think I agree with that as well because then even if you make mistakes on the way and in sustainability and the journey that we're taking, we will make mistakes on the way. You only make the best decision that you can with the knowledge you have at the time and maybe next week you find out that knowledge is wrong.

Jessica Jones

 

But as as long as you have integrity and you really are doing it for the right reasons and you're not willing to compromise on that, then I think, yeah, we will end up in the right place if everybody takes that approach. And the same thing with legacy. I mean, I, I grew up in London around the 2012 Olympics, and I went to a school in London.

Jessica Jones

 

So this was a very big part of my life. And the key word around it always stuck with me was legacy. What is the legacy of this games for the future generation? And I think as a leader, you should always consider your legacy. If if everything falls apart once you once you've gone, then you didn't really do your job.

Jessica Jones

 

So always thinking about how can we set up sort of the processes and the structures and the work that leaves a positive legacy. And I think, again, to touch on points that we've already discussed, trust and courage. I mean, if if an organization really wants to do this, they need to, first of all, take the first step without maybe not having all of the information around them, just knowing that they're trying to go in the right direction.

Jessica Jones

 

You know, setting up that meeting to discuss the first vision or starting with the data that you have to set up a KPI. I mean, sustainability is something you can never have the perfect answer. It's so multidimensional. So, so just taking the courage to go in the right direction and at the same time also when, when we want to engage young, young people or people with a different perspective, really meaning it and thinking about the the process of it as well.

Jessica Jones

 

And I've seen a lot in the past young people being invited to the discussions, but not giving any context or any training or of any information, even about about what's being discussed. And then you really can't make the most out of those interactions if you want to involve new perspectives into a discussion, you need to provide the support beforehand as well so that you can make the most of that opportunity.

Kate Cacciatore

 

That is such a good point. Yeah, I agree.

Jessica Jones

 

Yeah, we've definitely learned about the hard way and I've learned that the hard way. But it makes such a difference. It really does.

Kate Cacciatore

 

Wonderful. Thank you so much. Really, I can't thank you enough. And I for one, I'm going to be following your work in the future and Bühler work as well. And hopefully we'll have the opportunity to talk again on another podcast episode in the future.

Jessica Jones

 

Yeah, I hope so. And yeah, I'm sure our paths will cross and many other things, but thank you so much for the time and the questions and the great discussion.

Kate Cacciatore

Been a pleasure.